About
Scott J. Ross is a filmmaker based in Los Angeles specializing in comedy, documentary, and fine art film. A member of Public Cinema Club, he's developed and directed over ten web series for Netflix, Syfy, Super Deluxe, New Form Digital, and The New York Times.
His work as director, producer, editor, and cinematographer has screened at major festivals including Sundance and Tribeca, as well as at art institutions including the Whitney, the MoMA, and the Venice Biennale. Scott is represented by production companies Alkemy Xand All Ages Productions.
Email me at contact@scottjross.com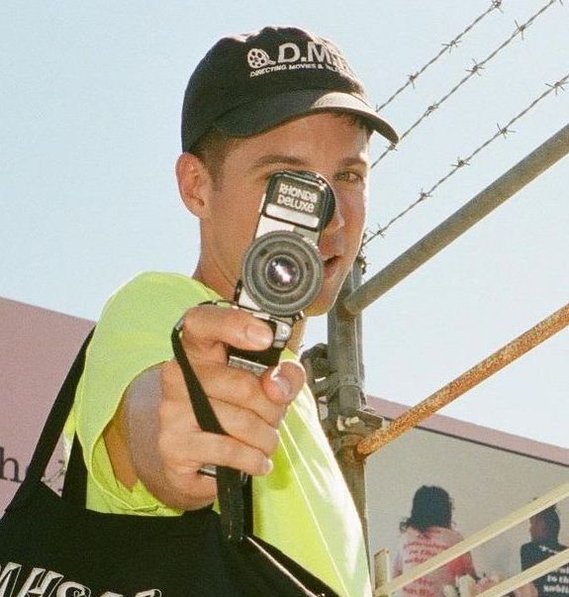 Films & Content
Modest Mouse - "The Golden Casket," (2021).
Co-directed and edited a comedy video in support of Modest Mouse's new album "The Golden Casket" with Kendra Uncut for SWARD and Sony Music.
Amazon Prime Video, 2021-Present.
Direct and edit shorts for Amazon Studios and Amazon Prime Video titles, such as a fake toy promo for Eddie Murphy's "Coming 2 America."
Netflix - "Worst Interview Ever: Chilling Adventures of Sabrina," 2021.
Directed and edited a remotely-produced comedy video starring Lucy Davis, Kiernan Shipka, and the rest of the cast of Netflix's young adult series for Netflix's social channels.
Netflix - "What You Know About That," 2020-2021.
Editor for an informational Netflix social series featuring viral talent.
Netflix - "One Story Away" Social Videos, 2020.
Worked as part of a team of collaborative producers, directors and editors under the direction of in-house creatives at Netflix. A series of seven videos in which fans from around the world recount iconic moments from Netflix titles. Interviews were shot remotely in 15 countries on almost every continent, and videos were distributed worldwide in support of the larger brand campaign.
"The Pet Files" (Scripted Digital Series), 2020.
In 2029, an Animal Physic Crime Whisperer taps into animals' minds to solve crimes while working under the umbrella of a taxpayer-money-hemorrhaging F.B.I. Pet Files Division. Co-director, co-writer, co-editor, co-star. Borscht Film Festival and Vimeo Staff Pick.
The New York Times T Magazine - House Tour, 2018-Present.
Direct, produce and edit T Magazine's rapid fire series documenting the homes of artists, designers and other creative people. Featuring Isaac Mizrahi, Richard Christiansen, Cary "Candyass" Leibowitz, and Aerin Lauder.
Netflix - "Lost in Space" Promo, 2019.
Co-director and editor (as Public Cinema Club) of a comedic fan surprise documentary for Netflix's "Lost In Space" series.
The New York Times T Magazine - My Favorite Artwork, 2018-Present.
Direct, produce, and edit T Magazine's series, in which artists talk about their favorite artwork. Featuring Glenn Ligon, Jordan Casteel, Swizz Beatz on Jordan Casteel, Pat Steir Arthur Jafa, and Nick Cave.
The New York Times T Magazine - Make T Something, 2018-Present.
Launched and templated the series "Make T Something" for T Magazine, in which artists are challenged to make an original artwork with the most recent copy of the Times. Featuring Alex Da Corte and Kenny Scharf.
"Rubber Pencil Devil" (Feature Film), 2018.
Served as cinematographer, producer, editor and VFX artist on a 150 minute non-narrative fine art film by Alex Da Corte, created for the 57th Carnegie International in Pittsburgh.
Super Deluxe, "Render Bender" (Digital Series), 2018.
Commissioned and co-produced for director Sam Rolfes. A digital series showcasing the best experimental 3D video art of the moment, hosted by a motion-captured, computer-generated avatar. Scored with music by underground electronic musicians including Iglooghost and Kai Whiston.
Super Deluxe, "AnimeFit 9000" (Digital Series), 2018.
Created, wrote and directed an unscripted series about rapper/comedian Caleon Fox's quest to become as fast and strong as his favorite anime heros.
Super Deluxe, "Real Or CG" (Digital Series), 2018.
Wrote, directed, edited and starred in a social media comedy series in which viewers are challenged to guess whether a strange image is real or computer generated.
Staff Filmmaker at Super Deluxe, April 2017- April 2018.
Full-time filmmaker at Super Deluxe, an alternative entertainment company owned by Turner. Developed, wrote, directed, acted in, and oversaw post on popular digital and social series such as #realorcg, Kitty Luxx, and Food For Thought (commissioned by Facebook Watch).
"Slow Graffiti" (Short Film), 2016.
Cinematographer, A.D. and editor of a short film directed by Alex Da Corte. A reworking of the 1967 short film "A Perfect Human" by Jørgen Leth, who also contributes voiceover to the film. Installed at the Secession in Vienna (2017), Marciano Art Foundation in LA (2017), and David Zwirner gallery in New York (2018).
"A Meme Story" (Digital Series), 2016.
Co-creator/director/editor of a comedic documentary series for Super Deluxe, about the creative people behind bizarre viral videos. Based on "Deer Squad: The Movie."
"Deer Squad: The Movie" (Short Film), 2016.
Co-creator of a short documentary about viral teenage deer whisperer @coldgamekelv. Released via comedy network Super Deluxe. Official Selection: Sundance Film Festival 2017, Sheffield Doc/Fest 2017, True/False 2017, Borscht Film Festival 2017, Rooftop Films 2017, Vimeo Staff Pick, Vimeo "Best of The Month."
"Father & Son" (Digital Series), 2016.
Directed the first three episodes of a new comedy web series written by Zack Buckner and Louis Blevins and produced via Ogilvy Play.
"RYOT: VOTE 360°" (Virtual Reality Documentary), 2016.
Shot ten short VR video pieces for RYOT (of The Huffington Post) on location at the 2016 Republican and Democratic National Conventions in Cleveland and Philadelphia.
"Housni's Smile" (Virtual Reality Documentary), 2016.
Directed and oversaw post-production on an 8-minute virtual reality documentary commissioned by Operation Smile and Johnson & Johnson. Shot over the course of 10 days in Morocco, the 360 degree stereoscopic film is viewable on all VR devices.
"The Adventures of Jamel" (Digital Series), 2015.
Director, editor, VFX supervisor, and sound designer for this satirical time travel series written by contemporary artist Jayson Musson. Official selection, Tribeca Film Festival N.O.W. (New Online Work) 2015, 30 Under 30 Film Festival 2015, Cleveland Intl. Film Festival 2016, Borscht Film Festival 2014.
"The Burning House" (Short Film), 2014.
Co-director, co-writer, editor, with Karl Beyer. Official selection, Kickstarter Film Festival Tour 2014.
Alex Da Corte (Video Art), 2010-Present.
Serve as contemporary artist Alex Da Corte's video producer, cinematographer, VFX supervisor, and editor. Exhibited at museums and galleries including the Museum of Modern Art, The Whitney Museum oF American Art, the Hammer Museum, ICA Philadelphia, MASS MoCA, and the Biennale de Lyon.
"The World of Lisa Frank", (Short Film), 2012
Co-produced, directed and edited a short documentary on Lisa Frank. Vimeo Staff Pick, writeups in The Atlantic, Huffington Post, It's Nice That, Jezebel.
Music Video Work
Tierra Whack - "DORA" (Music Video), 2020.
Producer and editor for director Alex Da Corte. Produced remotely from Los Angeles while managing a team of almost a dozen 2D and 3D animators based mainly in Philadelphia.
Naeem - "Simulation ft. Swamp Dogg & Justin Vernon" (Music Video), 2020.
Director/editor/VFX artist. Shot with Naeem with no in-person crew during isolation, in and around our home in March/April 2020.
Lil Miquela - "Automatic" (Music Video), 2019.
Director of photography (for director Clare Gillen) on virtual recording artist Lil Miquela's music video, for creative studio Brud.
Aidan Alexander - "Guts" (Music Video), 2019.
Co-directed (with Bobby Whigham), shot, edited and color graded the music video for the song "Guts."
King Princess - "Holy" (Music Video), 2018.
Co-directed (with Clare Gillen), shot, edited and color graded the music video for the song "Holy." For Zelig Records and IAMSOUND.
Miguel - "Waves (Remix ft. Travis Scott)" (Music Video), 2015.
Edited the music video (set at Miguel's Wildheart Motel party) for director Willo Perron. RCA Records.
MMOTHS - "Deu" (Music Video), 2015.
Co-Directed (with Hassan Rahim), shot, and edited the music video for "Deu" by Dublin-based electronic artist MMOTHS. Because Music.
Wet - "You're The Best" (Music Video), 2015.
Co-Directed (with Hassan Rahim) and edited the music video "You're The Best," set in a suburban roller rink. Columbia Records.
Wet - "Don't Wanna Be Your Girl No More" (Music Video), 2015.
Edited the music video "Don't Wanna Be Your Girl No More", directed by Beauty Today. Columbia Records.
George Ezra - "Budapest: George Ezra vs. Seniors" (Promo Video), 2015.
Directed and edited a promo video for Columbia Records pop artist George Ezra, featuring documentary interviews with nursing home residents.
UO Music Video Series, 2010-2014.
Launched and produced Urban Outfitters' successful music video sponsorship program for four years. Commissioned and coordinated PR campaigns for nineteen music videos, including videos for Spoon, Blood Orange, Washed Out, Charli XCX, Tame Impala, and Black Lips.
Le1f - "Hush Bb" (Music Video), 2013.
Producer, assistant director, editor, and VFX supervisor. Directed by Alex Da Corte and commissioned by MOCAtv.
Connan Mockasin - "I Wanna Roll With You" (Live Video), 2011.
Co-directed and edited a staged live recording with Connan Mockasin's band for Urban Outfitters' live music series.
Big Freedia - "Excuse" (Music Video), 2011.
Co-directed and edited a music video for New Orleans bounce artist Big Freedia, who teaches a class full of uptight Manhattanites how to booty bounce. Over a million views on YouTube and Vimeo.
Toro Y Moi - "New Beat" (Music Video), 2010.
Directed and edited the music video on 16mm film for Toro Y Moi's lead single from Underneath the Pine.
Spank Rock - "DTF DADT" (Music Video), 2011.
Co-directed and edited the music video for Spank Rock's "DTF DADT," premiere via The Fader.
Selected Commercial Work
Agency, 2021
Served as DP and editor on a series of documentary shorts for launch of Curology's new skincare brand, Agency. Creative directed Pure Magenta.
Down To Shop, Seasons 2 & 3, 2019.
Directed and consulted on post for over a dozen comedy skit product demos for mobile shopping app DTS.
Old Navy, "US of Fun", 2019.
Directed four doc-style profiles about fun-loving residents of Atlanta for Old Navy. Production Co: All Ages Productions. Agency: Chandelier Creative.

Adidas, "Find Focus On The Move", 2016.
Served as cinematographer / camera operator on an Adidas apparel shoot starring Simona Halep. Directed by Geordie Wood. Agency: U-Dox. Production Co: Rosco. Watch the director's cut here.
YouTube Music, "The New YouTube Music App," 2016.
Directed a collection of short pre-roll ads for the launch of YouTube's new Music app for iPhone and Android. Agency: Anomaly. Production Co: Alkemy X.
USPS, "In Conversation With...", 2016.
Directed branded documentary profiles on two small businesses (The Athletics and Terry Bicycles) for USPS on location in Portland, OR and Burlington, VT. Agency: MRM//McCann. Production Co: Alkemy X.
Refinery 29, "None of This Makes Sense", 2016.
Directed two whitelabel Snapchat comedy shorts for Bai and Refinery 29.
Refinery 29, "The Moment Before", 2016.
Directed three branded comedy short films for Refinery 29.
VSCO, "Introducing New VSCO", 2016.
Produced, directed and edited the launch video for VSCO's newly updated photo sharing and color grading app.
Comcast Xfinity Watchathon, 2016.
Directed three short promo spots promoting Xfinity's On-Demand Watchathon event. Produced by Alkemy-X.

Urban Outfitters, 2010-2016.
Senior Video Producer the Urban Outfitters headquarters from 2010-2014. Executed or commissioned all brand videos from concept through post-production for four years. Freelance directing & editing services 2014-2016.
Fine Wine & Good Spirits Holiday Campaign, 2015.
Directed 15- and 30-second broadcast spots, featuring unique motion controlled camera movement. Commissioned by All Ages Productions and the agency Tierney.
MikMak, 2015.
Concepted, directed and edited innovative e-commerce videos for mobile jewelry shopping app MikMak, featured by Forbes and TechCrunch.
The Gap, "Play your Stripes with Dev Hynes", 2014.
Assistant director, associate producer, and 3-D previz artist for Alex Da Corte-directed web ad for Gap starting Blood Orange's Dev Hynes. Commissioned by Weiden + Kennedy.
Without Walls, 2013-2014.
Served as co-director, cinematographer and editor of editorial and website videos for the launch of Without Walls, a new sportswear brand by URBN, Inc.
Hendricks Gin, 2014.
Directed the first ever documentary tour of the Hendricks distillery in Girvan, Scotland. A William Grant & Sons brand.
Milagro Tequila, 2014.
Directed a brand essence video for Milagro Tequila in Guadelajara, Jalisco and Mexico City.
AREA F/W, 2014.
Served as cinematographer and editor on AREA's F/W 2014 line, directed by photographer Charlotte Wales and creative director Eric Wrenn.
Karmaloop, 2010.
Directed, produced and edited two travel videos on Parisian nightlife, skate culture, and streetwear boutiques.
Education
B.A., French Literature, Environmental Studies. New College of Florida, 2005-2009.
Email at contact [at] scottjross.com for project inquiries, press, or general conversation.